Humanure Handbook now available as an E-Book!

Make Your Own

Humanure Toilet

A hinged humanure toilet box will be 18" wide and 21" long. Get two boards 3/4"X10"X18" and two 3/4"X10"X19.5". Get two hinges. Get one piece of 3/4"X18"X18" plywood and one 3/4"X3"X18". Hinge the two pieces of plywood together.

Cut a hole in the larger piece of plywood to fit the top of the 5 gallon toilet receptacle. Make sure the hole is only 1.5" back from the front edge of the plywood. Always use identical receptacles in a humanure toilet so they will all fit correctly. Buy a standard toilet seat.

When screwing the legs to the inside of the box, make sure the top edge of the box will sit about 1/2" below the top edge of the toilet receptacle (the top of the toilet receptacle rim will protrude through the box by about 1/2").

Mark holes for toilet seat attachment:
Watch a video showing how these toilets are made:
WATCH HUMANURE VIDEOS ON YOUTUBE
---
Watch a video showing how toilet contents are added to a compost bin:
---
Watch a BBC video about the humanure toilet system.
Watch our videos about the humanure sanitation system.
Need extra humanure toilet receptacles?
Need compostable plastic bag toilet liners?
Want to buy a Loveable Loo already built or in kit form?
See photos of owner-built humanure toilets.
Humanure Toilet Instruction Manual
Download a Humanure Toilet instruction sheet.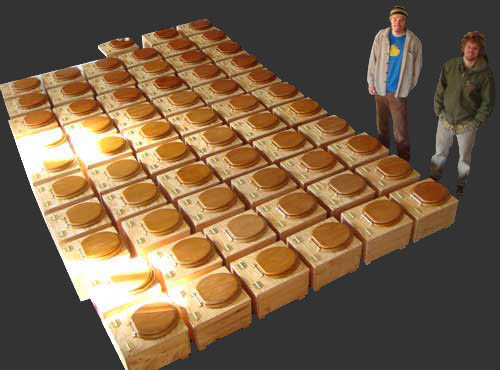 Finnish l French l Mongolian l Korean l Hebrew l Spanish l Norwegian l Slovenian l German l Cambodian | Italian | Portuguese | Vietnamese | Hungarian | Chinese | Dutch | Indian | Russian

Joseph Jenkins Inc.
143 Forest Lane, Grove City, PA 16127 USA
Ph: 814-786-9085; Fax: 814-786-8209